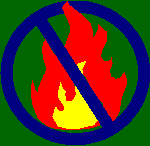 This Site © Copyright 2000 EBFRIP
7 June 2002

Swedish study should recognise science and not by-pass EU risk assessments
The Swedish environment ministry is once again attempting to make a case for banning all brominated flame retardants (BFRs). This is in spite of the fact that such a drastic option was overwhelmingly rejected by the European Parliament last year in votes on the draft Directive on the Restriction of Hazardous Substances.
Concern regarding BFRs is largely based on the findings in the environment of the one BFR, penta-BDE, which is now to be banned in the EU in 2003. Concern against all BFRs is not scientifically justified. An independent report from the Swedish environmental consultancy Orango(1) has previously pointed out that "Bromine in itself is not an environmental toxin - in fact, it is used in everyday products such as cough medicine". The same report concluded that "there is little basis, from an environmental perspective, to prohibit the use of all halogenated (including brominated) flame retardants".
EBFRIP, the EU-level BFR industry group, is actively cooperating with emerging EU risk assessments of certain BFRs, some of which are being carried out by the Swedish authorities themselves. EBFRIP calls for EU Member States to respect the scientific process as the only way in which to maintain an independent scientific assessment of the risks of chemical substances and their alternatives. "EU risk assessment will continue to be an important part of EU chemicals policy and in the interests of science-based policy, we urge Sweden to work with this process as opposed to against it", stated Véronique Steukers, EBFRIP Chairperson.
Statement ends
---